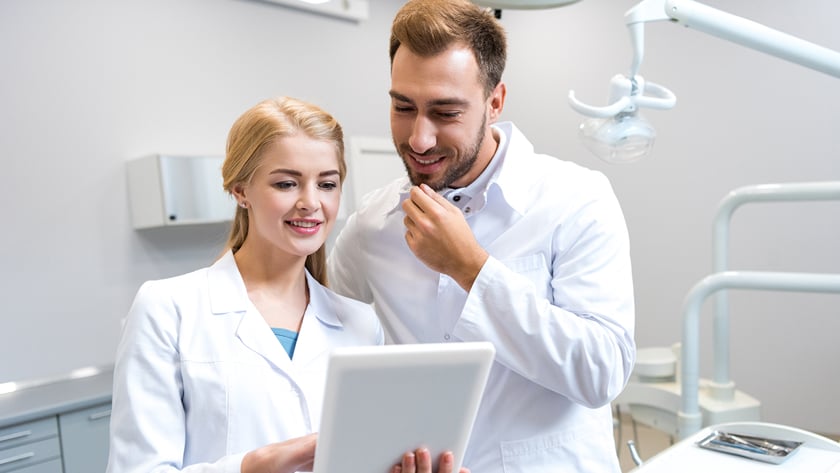 Getting Your Entire Orthodontic Team Engaged in Marketing
Effectively marketing your orthodontic practice doesn't just have to involve online marketing channels, billboards, or radio ads. In fact, effective promotion for your orthodontic practice doesn't even have to be reserved for designated marketing people, whether they're in-house marketers or an agency. Don't miss out on the opportunities to grow as a practice by getting your whole team involved in marketing.
Sales Training for Your Reception Team
For the people who work at your front desk, or anyone who will answer the phone, take the time to put them through sales training so they can make an impact on your patient list when they answer the phone or make outgoing calls. For one, each person who answers phones at your practice should be well-versed in the treatments offered, the main selling points of your practice, and essential information like office hours and policies. They should also know how to highlight the benefits of choosing orthodontic treatment on the fly.
Each time you get someone on the phone, you have a new opportunity to guide them one step further through the sales funnel. Each person involved in talking on the phone should be educated on how to determine where the lead is in the process, such as asking if they have made an appointment, and getting them one step further.
Start a Referral Program
You can get even more of your staff involved in promoting your business by creating real incentives for them to bring new patients to your practice. Obviously, you should have incentives in place for your front desk team since they will be the most directly involved in getting new patients, but you should also offer rewards for other staff members who bring in the most referrals during a designated period. This can come in the form of a direct cash bonus, a special prize, or an achievement award.
Build Relationships with Families
With most patients, each staff member will have opportunities to meet multiple family members, including siblings and parents. Encourage your team to actively engage in conversation with each family member and to build positive connections. As each team member gets to know each person who enters your office, they will be able to learn about their potential needs for orthodontic treatment and can find opportunities to recommend treatments they will benefit from. Make sure your staff is also educated about special discounts they could discuss with a patient's family, such as multiple family member discounts.
Social Media
If you have a solid orthodontic marketing strategy in place, you most likely already have a presence on social media as a practice. However, your impact on social media can extend past the social media pages for your office. Encourage each team member to use their personal social media pages to occasionally post about your orthodontic practice. This can be as simple as reposting a blog, or it could more direct, such as inviting people they know to start treatment at your office.
As you promote your orthodontic practice, don't miss the opportunities you have to get each team member involved.
Ortho Sales Engine specializes in marketing solutions for orthodontists, combines more than 20 in-house services to create customized, repeatable marketing systems, and serves as a trusted partner to doctors and their teams. To learn more or schedule a free consultation, visit orthosalesengine.com.