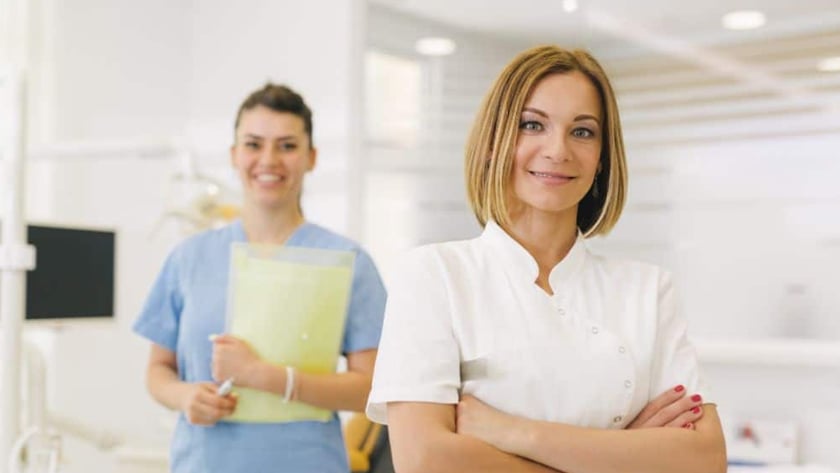 Why Every Member of Your Team is a Salesperson
Orthodontic offices run successfully when there is with a team of skilled individuals who dedicate themselves to excellence in their field. An essential aspect of working in any sort of medical field, no matter your position, is to understand the appropriate scope of your practice. The surgical assistant knows they shouldn't make the decision whether to pull a tooth or not, the receptionist knows not to interpret an X-ray for a patient, and the head orthodontist knows to call a certified technician to fix faulty equipment.
However, despite the compartmentalized nature of your team members' individual roles at your office, everyone plays another important role whether they realize it or not: a salesperson.
Growing your patient list often isn't as straightforward as other marketing ventures due to the perpetual need to care for patients, but there still are effective strategies you can practice to sell your orthodontic practice. While some people in your office may have more direct opportunities than others for effectively growing your business, each person is still involved.
Every Patient Interaction Sells Your Practice
Simply put, each time a member of your team interacts with a patient, they are also selling the practice to them. The medical staff will often have opportunities to answer questions or concerns the patient may have. This gives them a chance to provide a thorough answer.
Beyond simply communicating helpful information, being able to demonstrate you are knowledgeable about your field builds faith in you as a medical professional in the eyes of the patient. Any ambiguity also leads to anxiety, something commonly felt when going for an orthodontic treatment or procedure. Getting rid of this ambiguity for the patient will provide some relief for them, making them feel more inclined to return.
During these conversations in the exam room you may also discover information that gives you an opportunity to pitch a treatment to an existing client. You could discover the client has younger children and discuss bringing them in for an early orthodontic treatment assessment. The parents of a teenager also may have never gotten braces and perhaps has never thought about getting braces as an adult. These situations can come up very organically simply by engaging in conversation throughout the exam.
Selling Your Services Starts at the Front Desk
The members of your medical staff aren't the only ones who will play a role in selling your business. Individuals at the reception desk play a very crucial role in bringing patients in, as well as determining if a first-time patient will become a regular. They essentially are the face and voice of your practice because they are the first people patients see and they will be the ones to answer the phone when people call asking about your business.
While your medical staff can go into further details about a particular medical issue, the receptionist should know and be able to talk about what services are offered, when they can schedule the patient for an appointment, and what insurance coverage is accepted. Your receptionist gets to be a breath of fresh air by providing friendly customer service to patients who would most likely want to be somewhere other than the orthodontist.
Anyone with downtime during the day can also check the database of people who have reached out to the office and make follow-up calls.
Of course as the orthodontist, have the opportunity to act as a salesperson during each patient interaction you are a part of each day. Continuing to take advantage of each moment with your patients and instilling a sense of salesmanship in each member of your team will help create a driving force for the growth of your practice.
Ortho Sales Engine specializes in marketing solutions for orthodontists, combines more than 20 in-house services to create customized, repeatable marketing systems, and serves as a trusted partner to doctors and their teams. To learn more or schedule a free consultation, visit orthosalesengine.com.