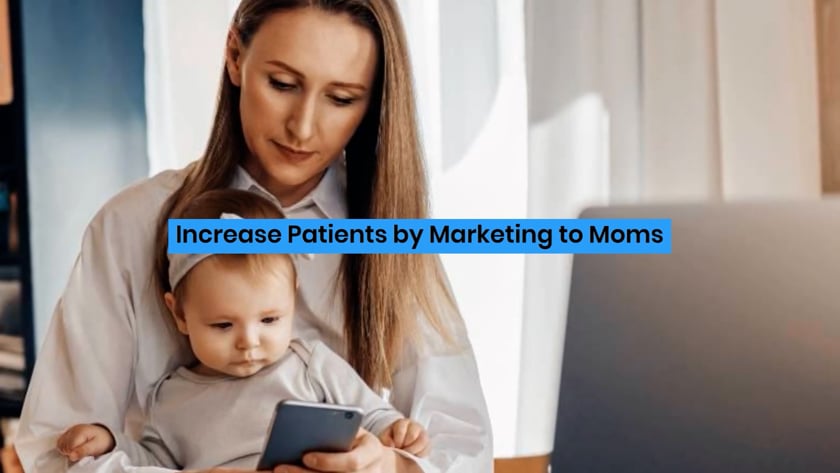 Increase Patients by Marketing to Moms
As an orthodontist, it's reasonable to assume many of your patients are between the ages of 8 and 16. This is typically the age range that benefits from orthodontic work. Given the ages of your patient base, you will likely be working directly with their caregivers. The majority of caregivers in the United States continue to be women, who are a vital part of household decision-making, including for their families' health care. 
According to the U.S. Department of Labor, moms make approximately 80 percent of healthcare decisions for their children. In the United States, they also account for 85 percent of overall consumer spending, including healthcare. This equates to over $7 trillion in spending. Given their tremendous purchasing power, it's clear that marketing to moms should be a critical component of an orthodontist's marketing strategy. 
Marketing to moms
While marketing to moms is important, many practices miss the mark. According to Marketing to Women, 91 percent of women feel advertisers do not understand them. So how can you make sure you are successful when marketing to women? Here are some tips to help you be successful in marketing to moms.  
Understand that she's more than just a mom
Moms hold many roles outside of being a mother. While being a mother is a core component of her life, it is not necessarily the defining thing about her. Studies show most women define themselves through their roles and achievements outside of motherhood. Recognizing a mother's whole self within your marketing campaign is essential to truly resonating with your core audience. You can do this by addressing the interconnectedness of her experience. If your advertising focuses solely on her motherhood identity, you are missing the mark. Successful marketing campaigns consider the multiple facets to their target audience's identity. 
Consider her unique needs
According to the U.S. Bureau of Labor Statistics, 71.2 percent of households are maintained by mothers who are employed. Working mothers have a unique set of needs, which you should seek to address through simple solutions. For example, many mothers are balancing working with childcare, which includes bringing their kids to orthodontic appointments. Consider offering a quiet space with free Wi-Fi, complimentary refreshments, and laptop-friendly seating. You can also set yourself apart from your competition by offering appointment times that are convenient for mothers (early morning or evening). 
Place an emphasis in your marketing campaign on concrete solutions that save mothers time, money, and frustration. Including these accommodations in your marketing tactics will show mothers you care about their needs. By offering concrete solutions that enable working mothers to balance responsibilities, you will set yourself apart from your competition. 
Appeal to her core concerns
Given that parental concerns and expectations will play an important role in orthodontic decision-making, it is vital to address them head-on. A study published in the National Library of Medicine found that parent's top ten concerns about orthodontic treatment for their children were:
   

Feeling pain

   

Appearance of braces

   

Being teased

   

Avoiding smiling

   

Speech problems

   

Dietary changes

   

Problems with transportation

   

Economic problems

   

Long treatment duration

Missing school
 Your marketing campaign should proactively address most, if not all of these concerns. One fun marketing tactic to alleviate parental concerns surrounding their child feeling pain is by offering ice cream, popsicles, or other frozen treats at the end of each appointment. The frozen treats serve to help lessen the pain and make it fun for the child to visit. And if the child is excited to visit, it makes mom's life much easier. 
Make sure your website and marketing materials address the other areas of concern outlined above. One way to do this is to provide brochures and pamphlets in your office addressing these topics.
Save her time
A study on modern parenthood by Pew Research found mothers need one thing more than anything else: time. This study found that mothers who work in the paid workforce spend almost twice the amount of time with their children than fathers do (13.5 versus 7.3 hours per week) and were more than twice as likely to feel exhausted all of the time (15.7 percent versus 8.7 percent). More than half of the mothers surveyed expressed concerns with juggling it all.
Given this data, one can see that providing time-saving benefits to mothers can be a crucial marketing approach to demarcate your practice from that of your competitors. One extremely simple, but appreciable, service is offering a quick, reliable, and consistent method for providing school excuse notes. Automatically print or email the school excuse note so busy parents do not need to ask or follow up to receive them. You can reduce both physical time and the mental load by automating this process. 
Research where she is online
According to an Ad-ology Media Influence on Consumer Choice survey, women account for 60 percent of those who research doctors online. Understanding where she is online is important to your marketing campaign. There may be differences in where your target audience spends time online based on their age, location, and status. However, most mothers trust other parental opinions over direct advertising. As such, use testimonials about your orthodontic services to leverage peer influence. Encourage your current patients to post honest reviews and testimonials about their experiences online, such as on Google Reviews or Facebook, and highlight them on your website.  
The most important aspect of marketing to moms, or anyone in your target audience, is to be authentic and concentrate on customer service. Word of mouth is the biggest factor for parents making medical decisions for their children. Parents will look for recommendations from people they trust. On the flipside, they will avoid businesses with a negative reputation in the community or if they've heard a friend, family member or trusted source had a bad experience. Therefore, treat all your patients and their parents well, and go even further than needed to stand out. Be sure to respect and value your patients by understanding their needs and listening to their feedback. 
Ortho Sales Engine specializes in marketing solutions for orthodontists, combines more than 20 in-house services to create customized, repeatable marketing systems, and serves as a trusted partner to doctors and their teams. To learn more or schedule a free consultation, visit orthosalesengine.com.