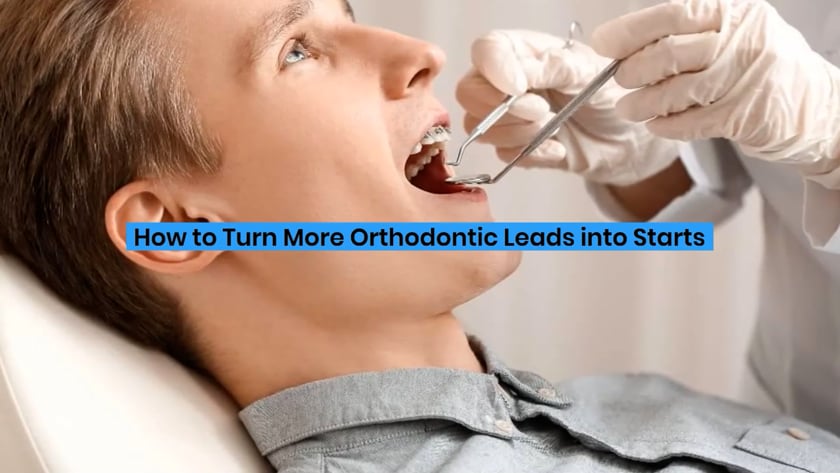 How to Turn More Orthodontic Leads into Starts
Many orthodontists don't see themselves as a corporation and can forget the tools and habits that help other businesses grow. Orthodontic leads are another name for potential patients. We'll cover the tools for creating more leads, habits for converting leads into patients, and how to retain established patients. In short, focusing on the problems or questions your patients have as soon as they reach out are key in creating loyal patients. 
What Are Orthodontic Leads?
As simply said above, orthodontic leads are potential loyal patients, and they present themselves in many ways. Whether they are reading a helpful article from your blog, submitting an online contact form, calling your office or walking in the door, these people are now at the same point every one of your current patients were before they started treatment. All of these people who are interested in your practice are considered leads, and the following tools can help increase these leads and turn them into starts.
Orthodontic Blogging to Educate Patients and Increase Reach
Blogging and search engine optimization help expose your practice to potential starts by creating a stronger online presence. Simply put, the more questions you address and the more content your website has, the more likely it is someone will come across your practice when looking for an orthodontist in your area. By either stumbling across a blog, a specific service you specialize in, or even just your homepage, a patient is interfacing with your practice more than other orthodontists in your area. If you don't have an online presence, or you're not satisfied with your current results, hiring a company to create helpful, success-driven content is a good option. 
Outsourced Customer Service
When a potential start  is curious and ready to initiate contact with your practice, it turns them into a hot lead. By following these hot leads and being ready with answers to their questions or need, you begin to turn a lead into a start and potentially a loyal patient. It's crucial to be available when they take that first step, as they may move on without a response. By outsourcing your customer service to a business that specializes in after-hours reception, your potential starts receive the answers they need and can set up an appointment. 
Effective Habits
During business hours, and with information you have, it's crucial to be diligent with communicating with your orthodontic leads. Understanding your website traffic, calling back messages left while out of office, and checking in with patients in a respectable manner all play an impact on how your practice is remembered. By understanding their questions, needs, or potential treatments, patients feel cared for and heard, which can create a bond with your practice.
Every patient you have was a stranger at one point. Whether someone sees you on social media, reads a blog, or follows an ad to your website, these leads are everything your practice is built upon. By expanding your exposure, keeping the conversation going, and being diligent with your customer service, you have the capacity to turn curious leads with questions into loyal patients.
Ortho Sales Engine specializes in marketing solutions for orthodontists, combines more than 20 in-house services to create customized, repeatable marketing systems, and serves as a trusted partner to doctors and their teams. To learn more or schedule a free consultation, visit orthosalesengine.com.