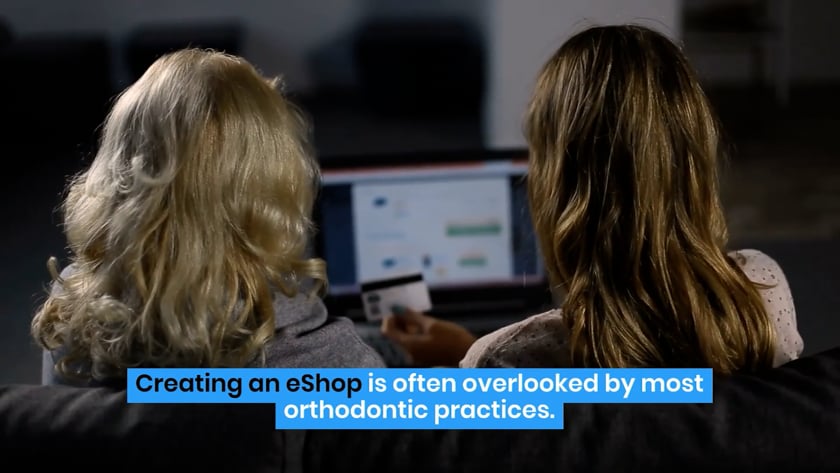 Creating an eShop for Your Practice
Introduction
Creating an eShop is often overlooked by most orthodontic practices. Though it may seem like more responsibility and more work, there are unique and significant advantages for creating an online store. Not only can you direct your patients towards products when they are out of your office, you also have the potential to reach patients that are outside of your area. If you're looking to add a charitable arm, a portion of your sales could go towards such efforts and create a larger impact than just orthodontics. 
Setting up an eShop may seem difficult, but most hosting sites provide simple solutions for integrating your small business with your practice. With the varying methods for integration, it's easy to find something that fits your individual practice.
Why Should You Be Creating an eShop?
Simply put, creating an eStore widens your commercial opportunities and not only provides a space for your patients to find useful and recommended orthodontic products, but it opens up the possibility for potential customers from across the country to buy from your store. Placing yourself in the marketplace also gives your practice more access to drive more site traffic, making your practice more accessible to potential patients in your area.
Another considerable purpose for creating an eStore comes with creating a small charity alongside your practice. If you devote a certain percentage of your online sales to help either your community or a specific group globally, your patient may be more inclined to shop from your store rather than a major distributor. If you create a method for having free local pickup at checkout, your patient may further feel inclined to shop with you.
How to set up an eShop
There are a few methods for creating an eStore. If you're looking to start a website from scratch or have an external site from your orthodontic homepage, DIY sites like Shopify, Wix, Squarespace, or BigCommerce are great routes. These hosting sites provide the tools and capabilities to handle any amount of traffic you need. Most of these are very easy to set up and include a free trial of some sort to see if you want to keep their services. The unanimous winner amongst these is Shopify, with more capabilities, users, and support to help you at any stage of using your online shop. 
Another option that may be a little more flexible with your existing site is to hire an agency. This can come in the form of hiring a developer who can create a custom solution for your website to enable you to sell directly from your existing website rather than leading to an external hosting site. If you go this route, be sure to ask for a content management system (often referred to as a CMS), which allows you to update inventory, add or remove products, or change prices as needed. By asking for this freedom, you will not only have more control of your eShop, but it will also keep your costs down. 
There are clear benefits for adding an eStore to your practice. If you have a supply of recommendable products, you may be able to reach a wider group of people outside your typical patient base. Considering the financial, marketable, or charitable benefits this may cause, it's worth looking into either using an easy DIY page, or hiring a developer or agency to custom-fit a store within your current website. If you're looking for content marketing, website analysis, or search engine optimization, reach out to OrthoSalesEngine to promote your practice's online presence.
Ortho Sales Engine specializes in marketing solutions for orthodontists, combines more than 20 in-house services to create customized, repeatable marketing systems, and serves as a trusted partner to doctors and their teams. To learn more or schedule a free consultation, visit orthosalesengine.com.