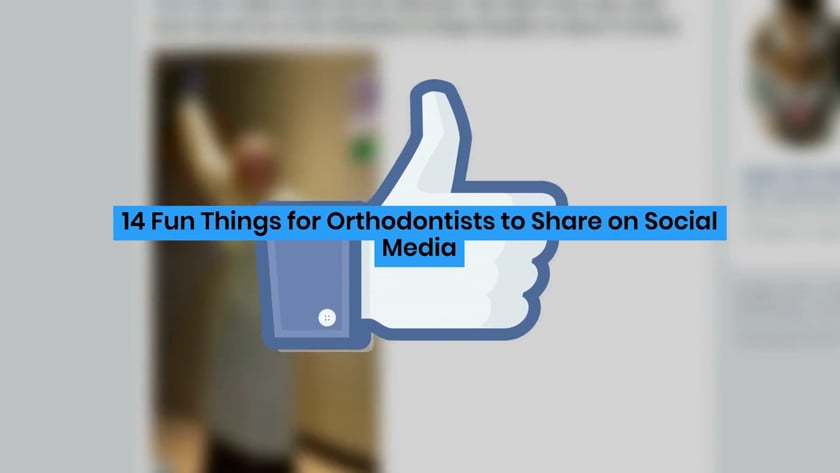 17 Fun Things for Orthodontists to Share on Social Media in 2024
Orthodontic Social Media: 17 Fun Ideas to Engage Patients
With the digital landscape constantly evolving, social media platforms have become ubiquitous in our daily lives. As per data from Demand Sage, there are now 4.9 billion social media users globally, which translates to 60.49% of the global population. This number is projected to escalate to 5.85 billion by 2027, underscoring the expansive reach of social media. Among these platforms, Facebook reigns supreme with a staggering 3.03 billion users. This data accentuates the critical role social media plays in modern communication, making it an indispensable tool for orthodontists keen on broadening their online presence and engaging with both existing and potential patients.
Your followers are keen on seeing customer testimonials, industry updates, and highlighted services as it amplifies their trust. Crafting engaging social media strategies can become a grind, and it's easy to feel the freshness of your content dwindling. Ortho Sales Engine brings a treasure trove of insights for orthodontists aiming to create a vibrant online community that not only retains existing patients but also captivates the interest of prospective ones. Dive into these innovative ideas designed for orthodontists to rejuvenate their content, boost engagement, and rekindle the joy in social media interactions.
Share Your Practice's Story
Marketing isn't just about increasing profit, it's about establishing trust. You may be the best at what you do, but how did you get where you are today? People want to connect with the humanity behind a brand; they'll innately look for characteristics that resonate with them. One of the simplest ways to build a strong relationship with patients (old and new) is to share your practice's story.
Post Trending Dance Videos
Using platforms like TikTok may seem intimidating, but it is extremely intuitive, and fun! Finding trending sounds, songs, and dances is as simple as browsing the app's For You page. Ask some of your more extroverted employees to do their own rendition of the dance, share it, and voila! You have the potential to go viral, or at the very least get some laughs in the office and online.
Highlight Your Employees
Similar to sharing your practice's story, posting personal "fast facts" about your team is a great way to connect with your audience. There are tons of ways to do this, and it's up to your practice to decide what works for you. You could do an employee highlight and have them write their own intros, or you could ask a series of questions as a go-to post each month. The more your patients get to know your staff, the more they'll feel comfortable on their orthodontic journeys. There are plenty of orthodontists who can get the job done, so stand out in the crowd by showcasing personality and professionalism.
Show Off Office Morale
Remember your high school's Spirit Week? Some of us may have dreaded it, but others jumped at the chance to wear something a little wacky to school. Implement your own office Spirit Week and have a different theme for each day. Employees can vote on themes, or you can even have your followers get in on the action and send in some ideas. This is a guaranteed way to boost instant engagement and show off your team's camaraderie and crazy side. For many younger patients, going to the orthodontist is a bit scary; imagine how much more comfortable they would feel if their orthodontist was wearing a crazy wig or a funny costume. Get creative and build your team spirit at the same time!
The Big Before and After
The proof is in the pudding…and also in the pictures. Let your work speak for itself with before and after photos of your patient's smiles. Getting orthodontic treatment isn't a short process, and it takes hard work and dedication from your patients. You'll give new, shiny smiles their moment in the spotlight while showing potential patients what you can do for them.
Patient Profiles and Testimonials
Real life stories of patients you've worked with can be another piece of humanity your social content is missing. Give your patients a chance to talk about why they wanted braces or aligners. People who are considering getting orthodontic treatment may see something they can relate to, turning a "maybe" into a "let's try this out" instead. Testimonials are a classic marketing technique, but today video posts bring the tool to an entirely new level. Film a quick clip of your patient talking about their experience at your practice, and share away.
Behind the Scenes Footage
Have a patient take over the camera and show what their appointments are like from their point of view. Let new patients have the opportunity to explore the office and get familiar with the vibe. Show what your work day looks like from a patient's perspective, or give one of your employees their directorial debut. Sometimes people would rather see real, raw content on social media instead of highly edited, beautiful marketing videos. This kind of post will save you on costs and switch up your content.
Patient Appreciation Parties
Find some funding in the marketing budget and throw a party for your patients to  thank them for trusting in your expertise. Give your followers a look at the bond you've built with your patients and how you celebrate their success. The best part of this strategy is it feels good to give back, and it is an out-of-the-box opportunity to grab some organic content.
Community Action Posts
Get out and give back (and share it with your social media followers). Doing great work for your community feels good and creates meaningful connections. There are tons of ways to connect with a cause that feels right for your office, and your team will have fun bonding outside of orthodontics.
Giveaways Galore
A sure-fire way to increase engagement is to launch a giveaway campaign. Encourage your followers to share a post, comment on a piece of content, or simply like your page for a chance to win. It's a good practice to offer a prize that isn't related to orthodontia, and there are a lot of options that any member of your audience would want to win. Think Amazon gift cards, electronics, or even a mini getaway for your giveaway grand prize.
Weekend Updates
Your audience is interested in what orthodontists do when they aren't fixing smiles. Take the time to post a photo from your weekend and share more about how you spend your time outside of work. Nature photos, family gatherings, wedding or special event fun, and even food pics are great ways to connect with your followers and let them get to know you.
Give Love, Locally
Does your office have a popular restaurant nearby? Do your orthodontists have a bookstore they love or a local deli they frequent? What sports teams do you have in your area? Post content that gives a shout out to some of your community's favorite things and find common ground with things your orthodontists and patients both love about home.
Memes for Days
Everyone loves a good meme, you can't deny it. Find some trending memes online and make it your own with an office inside joke or an orthodontic twist. Hopping on internet fads can be fun, and they provide evergreen content for your social feeds. This strategy will let people know you're in-the-know with pop culture, and that you don't take things too seriously.
Pets Rule
When in doubt, post a dog pic. Fur real, photos of pets are hard not to smile at. Ask your patients to send in pictures of their dogs (maybe even of them "smiling") or have your employees post photos of their four-legged friends. Humans can be annoying, why not brighten your feed with some pet love?
Virtual Office Tours
Offer a 360-degree virtual tour of your clinic on your website and social media. Highlight state-of-the-art equipment, comfortable patient areas, and introduce staff members along the way. This will help ease any anxieties new patients might have, giving them a sense of familiarity before their visit.
Orthodontic Tips and Tricks
Create a series of short, informative videos or graphics explaining orthodontic care essentials like proper brushing techniques with braces, foods to avoid, and what to do in case of minor emergencies like a loose bracket. Sharing these regularly can establish your practice as a helpful resource.
Interactive Q&A Sessions
Host monthly live Q&A sessions on platforms like Instagram or Facebook. Promote these sessions in advance and collect questions from your followers. During the session, provide insightful answers and share tips. This real-time interaction can humanize your practice, engage your audience, and provide valuable information to current and potential patients.
Ortho Sales Engine specializes in marketing solutions for orthodontists, combines more than 20 in-house services to create customized, repeatable marketing systems, and serves as a trusted partner to doctors and their teams. To learn more or schedule a free consultation, visit orthosalesengine.com.