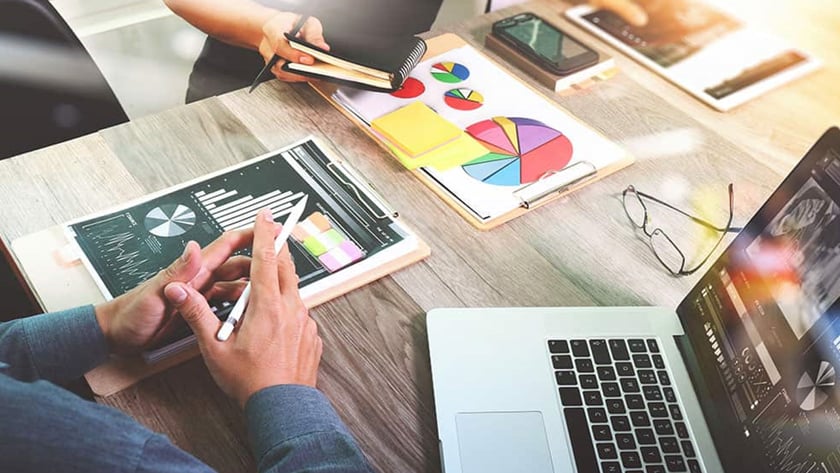 What Is Google My Business?
When you run a small business, free opportunities for marketing are incredibly valuable. One of the most essential free tools you should be using to help promote your orthodontic practice is Google My Business (GMB).
Reach Your Local Market
As an orthodontic office, you rely on patients who are located in your local market, which also means your potential patients are searching for orthodontists in your area. GMB allows you to make a free business profile using their platform, which shows up in the top section of the Google results page for relevant searches.
Potential patients will be able to see your location, hours, and any description you choose to create for your office. However, this is just the surface of the benefits of having a GMB page. There are tons of amazing tools at your disposal which, if used right, can give you the advantage you need.
Increase SEO for Your Orthodontic Practice
One of the biggest advantages of using GMB is it presents a great opportunity to boost your SEO. By creating an accurate description of your practice that includes your target locations and relevant keywords, you can make your orthodontic office rank well during searches. Include as much detail as you can in this section about how your particular practice stands out.
You can also add photos to your GMB page that will show up next to all of your information. You can customize how these photos appear on your page, so you know your best photos are being shown first.
Patient Reviews and Viewer Questions
GMB is also a massive platform for reviews, which will work in your favor if you have satisfied customers and are skilled at responding well to any negative reviews. In addition to conventional reviews, people can also post questions on your profile. This is a section that is important for you to pay attention to and carefully moderate since anyone can ask a question and anyone can answer. To get ahead of any potential inaccuracies in the questions section, you can post your own frequently asked questions and provide the answers yourself.  
Promotions and Appointments on GMB
Through your GMB profile, you can use promotions to draw in patients before they even click on your website. You can post updates or special promotions directly on your page, allowing you to put your best foot forward right away.  You can even choose to let people book an appointment right from your GMB profile by using a booking provider of your choice that Google partners with.
Insight into Potential Patient Behavior
The Insights section of your GMB profile is one of the most valuable tools available to you. In this section, you can get an inside look at how customers are interacting with your website, how customers find you, and exactly where in your local market the biggest potential for new customers can be found. If you use this section well, you can figure out where you can make adjustments to bring in more business.
Creating a Profile
Creating a GMB profile is fairly simple. Once you're on the GMB page on Google, simply select "manage now" from the top right corner, where you will be directed to a guided set-up. Once you get here, it's mostly a matter of taking your time to carefully enter in the information about your practice. You will need to enter in the name of your orthodontic practice, your location, and your contact information. Then, you pick the mode of verification that works best for you.
Once you are verified, you are ready to customize all of the information and images potential patients will see on your page, at which point you are ready to go live. The more information you enter, the less work your prospects have to do to figure out if your office is right for them, making them more likely to choose you. Again, take your time to make sure everything is correct.
Once your GMB profile is up and running, you are one big step closer to putting more new starts in your chairs. For more information on attracting new patients, give Ortho Sales Engine a call at (843) 544-9616.
Ortho Sales Engine specializes in marketing solutions for orthodontists, combines more than 20 in-house services to create customized, repeatable marketing systems, and serves as a trusted partner to doctors and their teams. To learn more or schedule a free consultation, visit orthosalesengine.com.