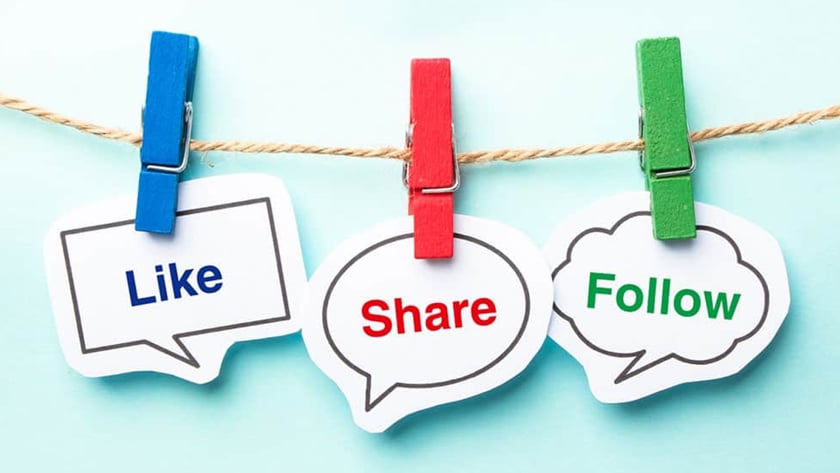 7 Social Media Must-Haves for Your Orthodontic Practice
When it comes to choosing an orthodontist, people don't necessarily rely on credentials alone – they look to referrals from trusted sources. However, the majority of these referrals are shifting from word-of-mouth through personal contacts to online recommendations from social networks. An organization's social media presence plays a large role in consumer decision-making. Because all orthodontic practices offer similar services, your social media engagement is what can make you stand out from the rest. The following seven platforms are valuable tools in promoting your organization, building a brand culture, and expanding your network to attract prospective patients.
1. Facebook
Facebook is an obvious necessity, due to it being the largest social media platform worldwide. With over 1.8 billion monthly active users, Facebook can exponentially grow your business if used correctly. It should serve as an extension of your organization and an interactive community between staff and consumers. Facebook pages aid in showcasing community involvement, especially if you're a local company. By tagging other organizations or posting photos of your business participating in local events, you're increasing the number of paths that can be used to discover your page.
In turn, getting tagged in either a patient or organization's post gives you automatic exposure to all of their Facebook friends and followers. Your page should include personal elements instead of being strictly business. Personal is what people relate to; therefore, it's important for your content to be engaging. By sharing photos of orthodontists with their patients and pictures of the office, you're revealing an inside scoop on the internal culture of your business. Seeing photo evidence of your newly renovated offices, or of how you provide friendly and engaging service is more effective than reading a review with the same claims.
Your FB page should also be linked to your blog, so users can share your posts to generate more leads. The blog articles you publish should address common orthodontic topics or questions patients typically ask. This way, if a patient shares one of your articles, their friends who are experiencing similar problems may click on the post directing them back to your page. Another way Facebook can be utilized as a problem solver is by conducting Q&As on either a standard text post or even through Facebook Lives. These personal touches allow patients to feel valued, which results in creating more long-term relationships with your customers. Facebook pages should be centered around building a trustworthy community between you and your customers.
2. Instagram
Instagram plays an important role in terms of building a brand culture for orthodontists. Similar to Facebook, the content should be personal, and images should highlight any values or ideals of your company. However, Instagram allows for a greater entertainment aspect. Sharing memes with friends is a large part of the Instagram culture. Therefore, posting orthodontic-related memes on your page encourages people to share the image while adding a humorous element to going to the orthodontist. Especially because braces are usually targeted at teens, attracting them with humor or relatable posts may help diminish any fears about going to the orthodontist's office.
In addition to the platform's lighthearted nature, Instagram's use of hashtags is an extremely beneficial tool for attracting new users to your page. You can use established hashtags or create your own specific to your orthodontic practice. The benefit of using popular and established hashtags is you increase your chances of being discovered without users having to search for your page. However, creating your own hashtags is also valuable because Instagram automatically compiles all posts with the same hashtags together.
An example of starting your own hashtag could be sharing weekly editions of #*insert orthodontist's name*SmileOfTheWeek. where you post before and after photos of your patients. This showcases success stories from your practice while also featuring a patient in a positive light. Orthodontists with successful social media also utilize their Instagram profiles to promote special deals or giveaways. The giveaway doesn't necessarily have to be for orthodontic related products, but requiring patients to tag a friend and like the post to enter results in increased awareness for your company.
Another valuable tool is Instagram stories. Stories only last for 24 hours, and you can upload photos, videos, or text pages multiple times throughout the day. Use them as fun reminders to wear your rubber bands, or to encourage people to enter your giveaways. Links can also be added to Instagram stories, so you can sync them to your blog or other social media sites for promotional purposes.
Ultimately, Instagram is where you have the freedom to be creative. Use your Instagram page to showcase your brand identity, while still marketing to and attracting current and prospective customers.
3. LinkedIn
Now that you've showcased your creativity and formed trusting relationships with your patients, it's time to utilize LinkedIn as a more professional outlet and expand your network. LinkedIn is essentially a "professional Facebook." Keep sharing the links to your blog posts, but don't share images of orthodontists with their patients or news of an upcoming giveaway on this site. You can also upload orthodontist news articles to your feed that you find interesting, and share your opinions regarding them.
It's important to only post content related to the orthodontic field. LinkedIn is a valuable B2B and B2C form of marketing for both the orthodontist's individual page and the company page. You can expand your network by keeping your profiled updated and optimizing your ability to be found in a search.
Use your LinkedIn profile to connect with other professionals in the industry, co-workers, clients, and friends. From there you can join LinkedIn groups. These groups will open you up to the latest news and developments within your field. You'll be instantly connected to new orthodontists within the group and have the opportunity to build relationships for potential referrals in the future.
LinkedIn groups are also a great area for discussion on orthodontic problems that arise, or any current trends within the industry. It's important to be an active participant to increase your company's visibility on the site. LinkedIn offers you the platform to build new contacts and expand your network on the business side of things. However, your patients also have the ability to follow or connect with your company LinkedIn page just like they would for any other social media. Your followers will remain up to date on orthodontic news, and your business will gain new valuable contacts throughout the industry.
4. YouTube
Just like Facebook, Instagram, and LinkedIn serve as extensions of your business, YouTube serves as an extension of the content you post. YouTube is the second largest search engine, which means the site has billions of users. Keep your videos on the shorter side so you don't lose the attention of your audience.
The videos should complement the content of your other social media. If your Facebook and Instagram pages have been posting about an upcoming giveaway, create a video of the winner being chosen and coming in to redeem their prize. Or, if your most recent blog post is on braces-friendly foods, create a video showing how to make a few recipes.
The content of your social media platforms should flow together; this way, you can direct your visitors to all of your pages at some point. However, not all of your content needs a short video to accompany it, so only add video if it makes sense to do so. The videos can also stand alone as their own content. Tutorials or "how-to" videos are extremely common on YouTube and are perfect for orthodontists. For example, posting a tutorial on how to floss with braces will generate more views outside of your current patients or followers because it is targeted toward the general public. YouTube videos are the added bonus to your social media, but they can really make you stand out from surrounding orthodontists.
5. Tiktok
This bite-sized video platform is the latest social media craze that's particularly popular among teens and young adults. Tiktok is a heavily collaborative platform where users interact with one another through each other's video clips. Users upload short videos that can be spliced with other user's videos or audio. Popular "challenges" or trends sweep the platform and have users tailoring their specific niche in response. 
While participating in trendy challenges is the best way to engage younger patients, Tiktok is also popular for users with a particular knowledge base to share their knowledge with their community. Tiktok users frequently search curated content through hashtags and the platform's algorithm, which is mostly responsible for getting videos in front of the eyes of users, also utilizes hashtags in that algorithm. 
Use your Tiktok profile to target teens through answering questions young patients may have about particular orthodontic treatments, sharing short stories, or busting popular myths. Videos are usually pithy, utilize graphics, and trending music. To get a good handle on the kinds of videos that are of the moment, explore the "For You" page which is where viral videos are.
Tiktoks are most appealing when there are real people in the video, so utilize your all-star cast of staff members at your practice to make videos. Making Tiktoks together is also a fun team-building activity for the whole practice.
6. Snapchat
Snapchat allows users to send pictures to friends or post them on their "Stories" to show followers what they're up to.
Snaps let you live in the moment. Photos sent to you only last a few seconds, which reflect users' busy lives. Stories, on the other hand, last up to 24 hours before being deleted. Snapchat originally allowed only 10 seconds of recording, but now you can capture moments up to 60 seconds long. Snapchat also utilizes a Geofilter function, a preplaced sticker specific to a location that is a custom sign for either a place or a business. Your practice could utilize a Geofilter by creating an engaging sticker that showcases the name of your practice for users to stumble across when they're in a particular area as a kind of word-of-mouth advertising. 
Snapchat has many advertising options for businesses.
7. Twitter
Twitter is a platform where many users get their news and updates about the world around them. Twitter is designed for short-form content, link and video sharing. Users only have 270 characters to express themselves in a tweet, so they must make every word count. Users can also like or reshare content that they find interesting, usually with a comment of their own attached. 
Users here are looking for of-the-moment information. Your practice could utilize Twitter by sharing blog posts dealing with a particular issue or common question. To lean more into creating high engagement among your twitter followers, ask open-ended questions or let your followers ask you questions for a way to share attention-grabbing information and to keep your followers on their toes. Twitter is a great platform to use in tandem with all of your other social media accounts to reshare content. 
A well-executed social media plan will help prospects relate to your practice and allow you to show you are not only an expert in your field, but also a practice made up of caring people who want the best for their patients and their community.
Ortho Sales Engine offers a complete marketing solution for orthodontists. For help with social media or any other marketing need, give us a call.
Ortho Sales Engine specializes in marketing solutions for orthodontists, combines more than 20 in-house services to create customized, repeatable marketing systems, and serves as a trusted partner to doctors and their teams. To learn more or schedule a free consultation, visit orthosalesengine.com.