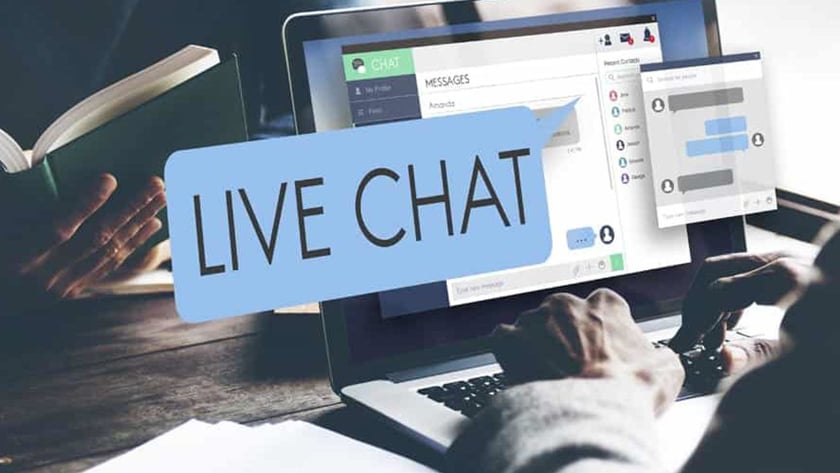 The Benefits of Live Chat for Your Website
Live chat is a type of online customer service software that allows customers to instantly message and communicate with a company's representative. This has been a growing trend in many businesses, including orthodontic and dental practices.
Even though it's relatively new, live chat has had a huge impact on online customer service and customer relations. For orthodontists, it's a great way to add a more personal touch and increased availability to your website.   
Convenient for Customers
When compared to other means of online customer service, like email, web forms, or social media, live chat has the highest satisfaction score. Over 92% of customers feel satisfied with their experience on live chat. The majority of online shoppers enjoy using online chat services and say they're much more likely to go back to the same site because of the chat.
As an orthodontist, you're not selling a product online like Amazon or a clothing store, but live chat still applies to you because it allows you to engage with your potential clients as soon as they get to your website.
People want that instant connection with someone who will be taking care of them, and providing that makes them feel more at ease with you.
Leads to an Increase in Sales
This trust and sense of security that can be fostered in online chat can lead to more sales for your practice. Instead of having someone fill out a form and wait to hear back from you, this service allows potential clients to get the answers to their questions immediately.
Not only does it help your customers, but it can help you in the long run as well. Understanding your customers' needs is crucial. Being able to hear from them directly keeps you connected to them and helps you know how to address certain issues or questions when they arise again.
The convenience of live chat goes beyond just making the customer feel important. It makes it easier for them to ask about certain treatments and schedule appointments. Instead of them having to find their way to your contact information, they can reach out to you directly and get their questions answered the quick and easy way.
This will not only speed up your sales process but also increase your online reputation as an orthodontist with stellar customer service.
Keep Up with the Current Trends
It's important to keep up with the ever-changing social media and online trends so you can be part of the competition. Since live chat is quickly becoming the norm in orthodontics, if you don't have it, you'll seem out of touch.
---
Contact OrthoSalesEngine today to learn more about how we can help you get live chat on your website and start turning your online leads into clients faster than ever.
Ortho Sales Engine specializes in marketing solutions for orthodontists, combines more than 20 in-house services to create customized, repeatable marketing systems, and serves as a trusted partner to doctors and their teams. To learn more or schedule a free consultation, visit orthosalesengine.com.