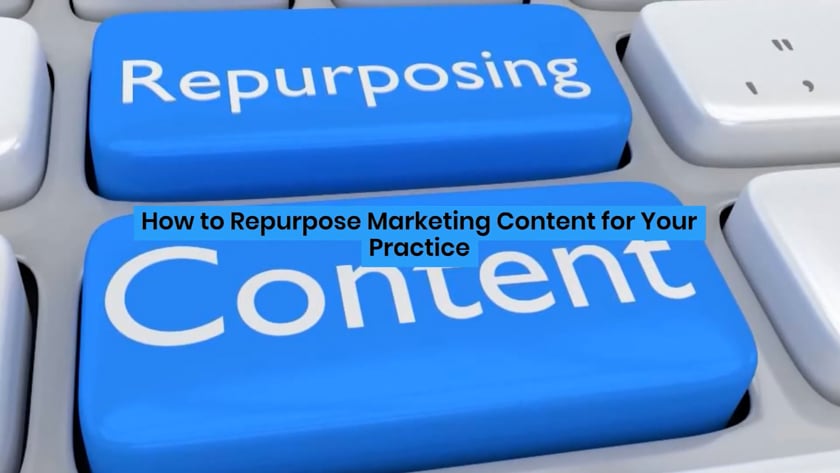 How to Repurpose Marketing Content for Your Practice
A major reason why most blogs or online presences are left behind is purely due to the false idea that every piece of content must be original. Not only does this place a lot of creative strain on those responsible, but also a lot of time is wasted trying to come up with more marketing content. Below, we'll cover how repurposing established content is effective for your practice and various ways to take a new spin on this content.
How Is This Effective?
You may be wondering why it's important to refresh or republish existing work. Though patients may see your content if they're on your website, the same content might not do well from an SEO perspective. By putting a new spin on older content, the recent update record used by search engines can make your blog stand out to new leads. 
Repurposing can also take your successful posts and branch out into different mediums to reach different types of potential patients, further establishing the online presence of your practice. Both of these reasons together make way for editing your content to include new trending keywords. 
How Can I Repurpose Content?
Images are the easiest type of content to repurpose. Patients love to feel connected to the practice, so using old photos on social media in the format of a Throwback Thursday or a general post goes a long way. With the permission of a patient, using a photo from a positive review can also help your patients feel engaged. 
Another method for repurposing marketing content is turning successful blog posts into videos for YouTube, a more flashy infographic, or maybe a podcast if that seems enticing. What's important here is to understand what is successful and to diversify using the same content for a variety of patients. This maximizes your exposure on various platforms and allows your successful material to be seen. Simply put, it's best to let the work speak for itself and to minimize interference.
Which Content Should Be Updated?
In perhaps a more technical term, understanding and republishing evergreen content is a common and successful tool among content marketing specialists. Understanding which content doesn't have an expiration date and thus a long shelf life can help you choose which content to refresh, and which to leave as is. For orthodontists, avoiding content that uses antiquated technology or methods or talks about team members who have left the practice or services you no longer offer is best. Your blog, website traffic, and practice will be more successful if you address questions a patient is searching for at any given moment. 
Though original content will always be necessary, it is not always the most guaranteed route to site traffic. Your patients have a handful of potent questions and your medium to answer those questions does not need to be complicated. It's important to conserve creative energy while keeping your practice relevant in search results. Updating existing blog posts, recycling old photos, or reformatting successful content are key in achieving these important goals. 
Ortho Sales Engine specializes in marketing solutions for orthodontists, combines more than 20 in-house services to create customized, repeatable marketing systems, and serves as a trusted partner to doctors and their teams. To learn more or schedule a free consultation, visit orthosalesengine.com.