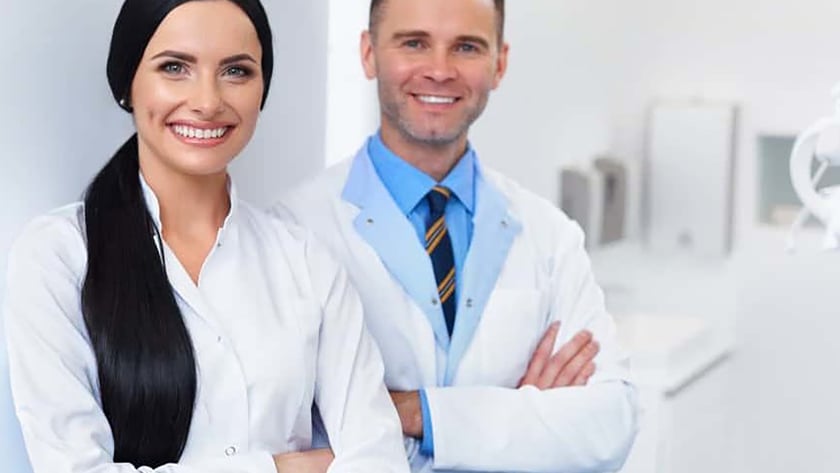 How Dentists and Orthodontists Can Create Powerful Business Partnerships
Strong relationships between dentists and orthodontists are not only beneficial to their practices; when the two work well together they serve the patients' best interest as well. 
Make a Connection
Dentists have a lot of influence on where the patient decides to go for orthodontic treatment. As an orthodontist, it's important that your practice stands out in their mind. Starting at the beginning, orthodontists should make an effort to network with their surrounding dentists. This can be done both online and face-to-face. Social media can be extremely valuable for increasing interaction between dentists and orthodontists. For example, follow them on Instagram and comment on the content they post. Or, connect with them on LinkedIn, where you can join a industry-based group to expand your network and increase your chances of referrals.
Networking in person has its advantages as well. Invite their staff out to lunch to learn more about their practice, while also allowing them the opportunity to learn about your experience and credentials. Make sure to make a strong first impression, whichever method you choose. These initial networking efforts will help lay the foundation for your relationship.
Build a Strong Relationship
Once you've made a connection, it's important you work to maintain a strong relationship. Let them know you appreciate their business and value what they can add to your practice. Have breakfast delivered to their office on occasion, or find other unique ways to show your appreciation.
It's also important to point out that orthodontists offer benefits for dentists, too. While you're building your relationship, discuss your own successes and use that as leverage for why you should work together. For example, you can talk about your education and experience, and reveal how many new patients you acquire each month. This way they will see the benefit of partnering with you because you can send new patients their way as well. Your relationship should be an equal partnership that results in a win-win scenario.
Make the Most of the Partnership
Referrals are the primary motive for dentists and orthodontists to partner with each other. Most patient-doctor relationships are built on trust; therefore, a patient is likely to take their doctor's recommendation on who they should turn to for treatment.
In addition to word-of-mouth recommendations, dentists and orthodontists can partner together by showcasing their relationship through social media. For example, you can promote each other's content or collaborate to create new content together. Typically, dentists and orthodontists are local organizations, so it can be a smart business move to share photos of you working together at community events. Showcasing your partnership to your online followers may also encourage referrals without either of you having to make a formal recommendation.
Put the Patient First
Now that you've acquired new patients, your partnership will work to their advantage if executed correctly.The key is simple: Always put the patient first. Dental Products Report conducted an interview with orthodontist Dr. David Sarver on the relationship between dentists and orthodontists. He was asked who decides the treatment plan for the patient. His response was that it varies case by case, and he used volleyball as a metaphor of their relationship. One of them takes the role of the leader, while the other is the "setter" who assists whoever hits the ball over the net. They work as a team where one creates the plan and the other one helps execute it to enhance their patient's outcome. Having strong, trustworthy partnerships will help ensure everyone is working together in the patient's best interest.
These partnerships have the potential to be extremely powerful; however, the final outcome is determined by whether orthodontists successfully take advantage of these opportunities. Contact Ortho Sales Engine for more information on connecting with dentists and creating beneficial relationships for your practice.
Ortho Sales Engine specializes in marketing solutions for orthodontists, combines more than 20 in-house services to create customized, repeatable marketing systems, and serves as a trusted partner to doctors and their teams. To learn more or schedule a free consultation, visit orthosalesengine.com.