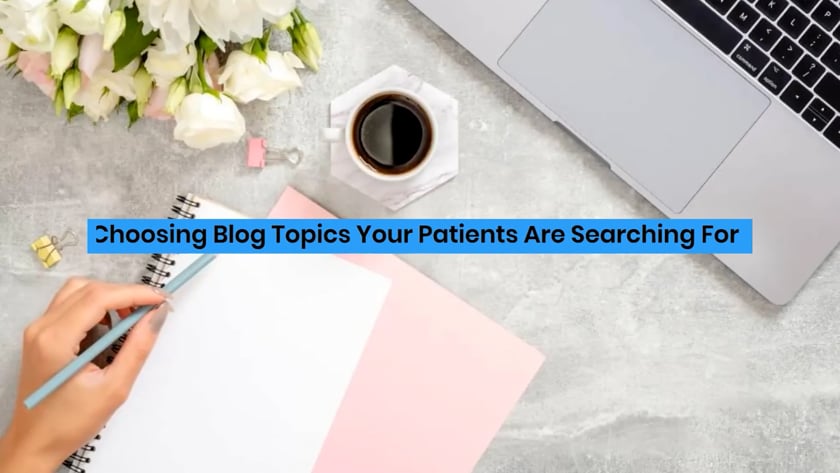 Choosing Blog Topics Your Patients Are Searching For
The topics you want to talk about often seem quite different from topics that are most often searched on the internet by potential patients. While you may want to refrain from talking about pain, cost, or outdated appliances, these topics and others that bring anxiety are often what comes to patients' minds first. The key here is to take what they are searching for, acknowledge their feelings, and comfort their anxieties with a solution to the problem. Choosing blog topics may even be inspired by these difficult inquiries, and original content can be created to make your practice and services shine.
Keywords and Effective Phrasing
If you're not yet aware, a major facet that drives internet traffic is the utilization of keywords and keyword phrases. For example, if your blog only contained information about Invisalign and you simply decided to use that exact phrasing, you'd be missing out on the large percentage of patients who are curious about braces or braces alternatives. 
The words we use in a blog dictate site traffic, and it's important to know that just having a topic worth talking about isn't enough to drive visitors to your site. Even if you don't want to talk about braces, it's important to include the phrasing so it shows up in searches. 
Choosing Blog Topics for Your Orthodontic Practice
Unfortunately, the keywords and phrases being searched are often topics you don't want to talk about. For example, while you'll want to discuss the ease of treatment so as not to scare off potential patients, "pain" or "braces hurt" is more likely to be searched. It's important to be in touch with your readers' interests and to choose blog topics that reflect those interests. Though you will need to bring up difficult topics that you may typically want to avoid, it's important to include information to redirect the conversation to make the patient aware that treatment isn't painful, expensive, or as archaic as it may have been in the past.
Redirecting the Conversation
Let's assume you want to address Invisalign, but your patients' first instinct is to research braces. Rather than using braces solely for a keyword hit, it's important to use the term in order to bridge the gap. Instead of titling your post "9 Benefits of Invisalign," it may better serve your blog to title it "9 Advantages of Invisalign over Braces." This draws in the reader and potentially opens their minds to other treatment options. In the post, you may want to clarify the financial implications to dispel mystery (also to provide relief), and honestly state that both options are painless by describing the process. Once you learn the art of addressing problems and providing solutions, these difficult problems can often be used to create positive original content.
Be attuned to your patients' inquiries. Not only is it important to address them in your blog for the purpose of search engine optimization, but it's also important to have an attractive approach to redirecting these anxieties into informative and clear solutions. By understanding the importance of keywords, the problems they seek to resolve, and your role as a practice, it's easy to drive site traffic and thus attract more business.
Ortho Sales Engine specializes in marketing solutions for orthodontists, combines more than 20 in-house services to create customized, repeatable marketing systems, and serves as a trusted partner to doctors and their teams. To learn more or schedule a free consultation, visit orthosalesengine.com.