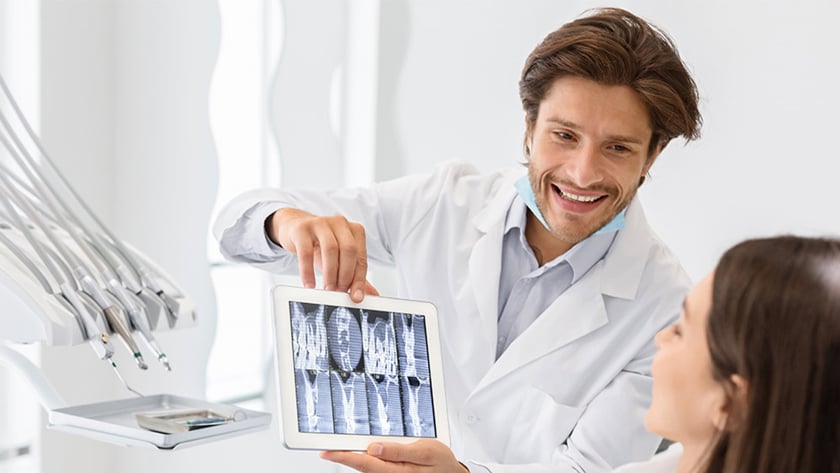 Are You Marketing Orthodontic Services or the Results?
Orthodontics is a unique kind of business to be in when it comes to marketing. While a significant portion of your marketing should be aimed at encouraging prospective patients to choose your office over competing practices, a lot of your energy will also need to go towards selling people on the idea of getting orthodontic treatment in the first place. To do this, you'll need to effectively market the positive results of orthodontics.
Talk about the Patient Benefits, Not Just Your List of Services
This is a common marketing mistake that plagues business owners in all types of industries, not just orthodontics. Websites are often full of the products or services provided instead of the benefits someone would receive from using the products or services.
For example, imagine two websites for two local gyms. One of them lists all of the equipment that can be found there and that they have showers and towels available. The website for the other gym talks about how going there can improve your health and the benefits of doing so, how convenient it is to go there because they have extended hours or a great location, and the fact that you can work out on the way to work, use their clean showers and leave your wet towel behind for them to clean up. Which gym would you choose?
The same is true about orthodontic websites. While letting people know what treatment options you offer is important, it's even more important to talk about how they will benefit from getting orthodontic treatment, especially at your office.
Include a Treatment Results Section on Your Website
One of the most prominent sections on your orthodontic website should be a page that highlights the benefits of getting orthodontic treatment. While most people are aware of how braces and Invisalign will get them a better-looking smile, not everyone is aware of the health benefits. Definitely include before and after photos of people's smiles to emphasize just how much better someone's smile will look after getting orthodontic treatment, but make sure to also include a sizeable section talking about other benefits.
By informing prospective patients about how getting braces or Invisalign can reduce their chances of getting cavities and make their bite more comfortable, you'll increase your chances of getting new patients who are on the fence about starting treatment.
Integrate a Results-Focused Content Marketing Strategy
In the same way you should highlight all of the benefits of orthodontic treatment, you should also integrate these topics into your content marketing strategy. People who are unsure about whether to get orthodontic treatment for themselves or for their kids will likely be researching the benefits of orthodontic treatment. By posting quality blogs about just how beneficial braces are for both self-confidence and overall oral health, you can provide the kind of information these people need to make the right decision.
Include Relevant Information in Your Emails
If a prospective patient shows interest in treatment but doesn't schedule an appointment after a decent amount of time, there could be a number of reasons why you didn't hear back. A likely reason is they aren't yet convinced that the results of orthodontic treatment are worth it. As part of your follow-up email strategy, include information on why starting orthodontic treatment is worth it, including getting a smile they will love, better jaw comfort, and reduced chances of tooth decay over time.
Be sure to integrate the positive results of orthodontic treatment into other marketing channels as well, such as posting patient before and after photos (after having the appropriate forms signed) or sharing your blog posts on social media. You should also emphasize the no-pressure and cost-free consultations you offer where potential patients can learn how they will benefit from orthodontics.
You know just how much your patients will benefit from orthodontic treatment. By letting them know through your marketing, you can get more patients into your office.
Ortho Sales Engine specializes in marketing solutions for orthodontists, combines more than 20 in-house services to create customized, repeatable marketing systems, and serves as a trusted partner to doctors and their teams. To learn more or schedule a free consultation, visit orthosalesengine.com.