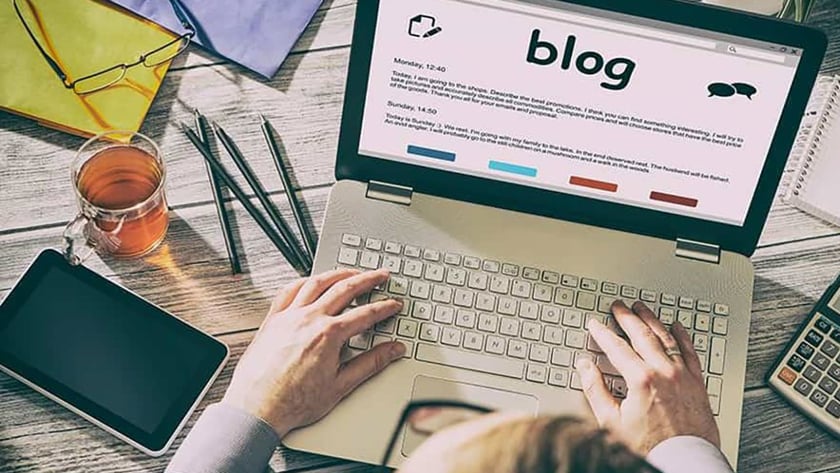 Are Blogs Really That Important For Your Practice?
Blogging is a huge part of inbound marketing that utilizes strategies to bring patients to your practice instead of you going after them blindly. These don't necessarily promote a particular product or practice, but they build public interest with each new post.
If you google "how to keep your teeth clean with braces," you'll get a results page full of blogs on the topic.
The first three options are from Colgate's blog. The rest of the page is full of dentist company blogs with their own answers.
Blogging isn't just a way of informing the public on hot topics, it can also build your brand and your client base.
Blogs Bring the People
If you create useful and engaging content, people will come to your site.
HubSpot reports that 57% of companies with a blog have gotten a customer because of their blog posts.
This is extremely valuable because once on your site, people will be able to see what you are all about. In turn, leading them one step closer to becoming your patient.
Blogs also mean more words associated with your brand. If done correctly, this increases your search engine optimization (SEO) and gets you ranked higher on the list of results from Google. Soon you'll be competing with Colgate for that top spot.
Blogs Establish Trust
According to BlogHer, 81% of U.S. online users trust information from blogs. In fact, they trust blogs even more than other social media outlets like Facebook, Twitter, and Pinterest.
Blogging makes you an authoritative center on whatever subject you're writing about. For orthodontists, being trustworthy is key. People don't want you fixing their teeth if they don't believe you know what you're doing.
Once people find you and trust you, they're that much more likely to make an appointment. Or at least contact you for more information. They might even give you their email address or phone number.
Implementing Calls to Action (CTAs)
Every blog must have an end goal. It's great to get the hits on your blog and even gain someone's trust, but that doesn't make you money.
You have to guide them along the process to becoming your valued client. Add links to other blogs or pages of your website to keep them engaged. Include a call to action – or something that makes the reader do what you want. Like "click here to register" or "fill out this form to receive a free e-book!"
You want to make sure you are trying to capture the leads that are reading your blog. This gets you their contact information and makes it that much easier for you to reach out to them. From there, they're a great lead for you to sell your products or services.
---
Want to learn more about blogging and how to do it successfully? Let us show you how to get those leads you need.
Ortho Sales Engine specializes in marketing solutions for orthodontists, combines more than 20 in-house services to create customized, repeatable marketing systems, and serves as a trusted partner to doctors and their teams. To learn more or schedule a free consultation, visit orthosalesengine.com.